Am 16. Februar 2006 meldete SpOn, das in Tsukuba japanische Forscher den Prototypen eines dreidimensionalem Displays vorgestellt haben. Mit mehreren Lasern werden Plasmapunkte im Raum erzeugt.
Danke Guido.
Nachtrag 10.05.2006: Im Mikesweb-Blog gibt es auch einen Beitrag dazu.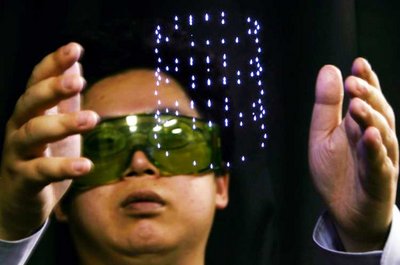 Quelle: REUTERS
Artificial Glowflys
In February 2006 the magazin SpOn announced, that in Tsukuba Japanese researchers presented the prototype of an three-dimensional display. Points of plasma are produced with several lasers in the air.
Thanks Guido.
EDIT 2006-05-10: See also Mikesweb [german].